The baker's dozen is over and we are left with 12 talented bakers, who this week, faced crunch time (pun fully intended) as they took on the perils of biscuit week.
Signature Challenge: Decorated Chocolate Biscuit Bars
The show kicked off with this week's signature challenge; decorated chocolate biscuit bars, and we really got to see the contestants' imaginations come in to play. Helena's 'Witches Fingers' were a halloween-themed highlight, albeit not to the judges' taste, but it was Michelle's bakewell-themed biscuits that won over Paul and Prue, with Rosie and Alice following closely behind with their virgin mojito biscuit bars and honeycomb mallow peanut bars.
And what can we say about poor Jamie who, having narrowly survived last week, doesn't seem to be any stronger in the initial biscuit week challenge.
Technical Challenge: Fig Rolls
So, onto the technical challenge of fig rolls. A tricky one, and certainly not a biscuit you'd ever really think to make yourself at home, the bakers are asked to produce 12 of the biscuits, identical in shape and size. Noel forgets to mention this fact at the delivery of the challenge, and so Sandi swoops in to elaborate, reminding us that this initially unlikely duo are actually a match made in TV heaven.  
In true bake-off fashion, the instructions are minimal, and the usual flustering occurs. Helena manages to make 11 fig rolls instead of 12 but, true to her gothic personality, draws the missing one on in chalk with "RIP" written as if it was a biscuity crime scene. Jamie, for some reason, decides to egg-wash his biscuits. The pair are placed 12th and 11th respectively, with Alice coming out on top and securing her place as 'one to watch' this week.
Show Stopper Challenge: 3D Biscuit Constructions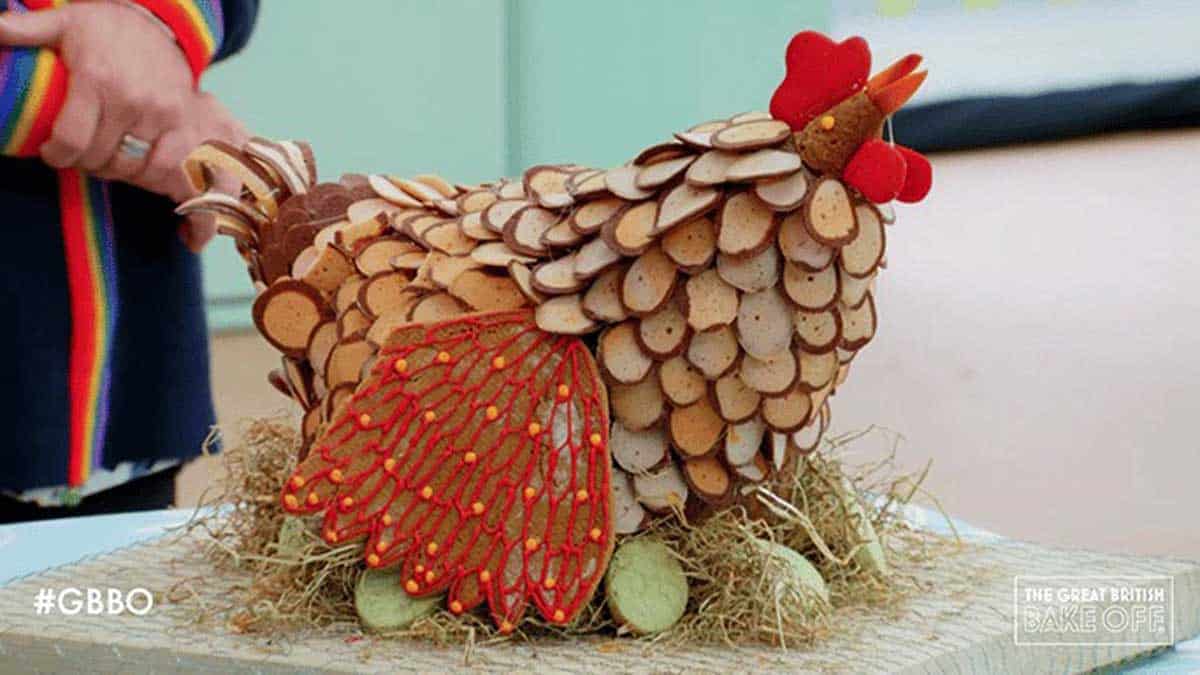 3D biscuit constructions are the order of the day when it comes to the show-stopper challenge. The old Bake-Off adage of 'style over substance' is warned from the off, as the bakers are reminded that their showstoppers, no matter how impressive, should not compromise any loss of flavour or texture.
Rosie sets herself the mammoth task of baking 212 biscuits for her chicken, while Henry sets to work building an organ – opening us up for some good old-fashioned Bake Off innuendos. Jamie proposes to make a guitar and you can hear a collective sigh/gasp from the entire nation as it falls apart when removed from the oven. Helena manages to save herself with an impressive spider hatching from an egg, complete with a spun-sugar web.
Unsurprisingly, yet well deserved, Star Baker goes to Alice this week, who has stepped up to the plate and really shown us what she can do. Even more unsurprising, perhaps, is the inevitable demise of Jamie who is sent home. We'll miss his cheeky, youthful personality, and we're certain he'll be off to fine tune those baking skills even further.
Next week…
It's the week all the bakers dread, and all the viewers love – bread week! Bread guru, Paul Hollywood, will undoubtedly be on the prowl for the perfect loaf and judging from the trailers, there are some amazing creations for him to sample. Yes, we are jealous. Let us know your thoughts on last night's episode over on our Facebook page!