One of the most wonderful things about the festive season is being able to provide your friends and family with a table full of delicious food. But, if the idea of cooking for a large group of people seems a little daunting, we're here to save the day!
We've put together a list of top products that will help you with your Christmas cooking, make the whole experience seem like a breeze, and allow you to spend more quality time with your loved ones.
Food Processor
An absolute must-have for simplifying Christmas cooking, the Cooks Professional Food Processor will take all the hard work out of preparing vegetables, blending soups, mixing ingredients for pastry and so much more! With a large 3.5 litre bowl, and a 1.8 litre jug, you can create large quantities of food with ease, and the 7 included attachments will really take all the hard work out cooking this Christmas.
8 Piece Cast Iron Set
If you're looking to not only cook efficiently, but also bring a touch of style to the main event, the Cooks Professional Cast Iron Set is exactly what you're looking for. Available in a range of gorgeous colours, the set includes 2 crock pots, 3 saucepans, a frying pan, griddle pan and roasting dish, allowing you to create a variety of delicious Christmas dishes.
3-in-1 Handheld Stick Blender
Perfect for mixing soft ingredients and liquids with the blender attachment, whipping up great desserts with the stainless-steel whisk attachment or chopping up vegetables with the bowl attachment, this stylish 3-in-1 Stick Blender from Cooks Professional is the kitchen gadget that will make short work of your Christmas food preparation!
4 Section Buffet Warmer
Ideal for keeping food warm for serving, this Four-Section Buffet Warmer from Cooks Professional also transforms into a hotplate, giving you more options over what meals you can serve. A must have for home entertaining, this is perfect for popping on the dinner table to keep food warm, and for allowing guests to self-serve at your Christmas party.
Ice Maker
Make sure your party guests are never without a cold drink with the Cooks Professional Ice Maker. This easy to use machine will give you ice in as little as six minutes, and can make either small or large ice cubes. Requiring no plumbing, it's the perfect Christmas party companion!
Stand Mixer
Christmas is definitely the time of year to get baking, so why not take the hard work out of mixing, and create a wide variety of delicious bakes with the Cooks Professional Stand Mixer. With a dough hook, whisk and flat beater included, your festive baking options are limitless!
Ice Cream Maker
Impress your friends and family this Christmas with homemade ice cream, frozen yoghurt and sorbets using the Cooks Professional Ice Cream Maker. No need for pre-freezing, this clever little gadget allows you to pop all of your ingredients in and sit back and relax whilst the machine does the hard work.
Recycling Sensor Bin
Providing you with a place to dispose of eagerly torn open wrapping paper, and a place for those empty champagne bottles, the Recycling Sensor Bin from Cooks Professional is ideal for keeping your home and kitchen tidy this Christmas. The built-in sensor allows for hygienic, hands-free opening, and the separate compartments mean you can neatly store your items for recycling.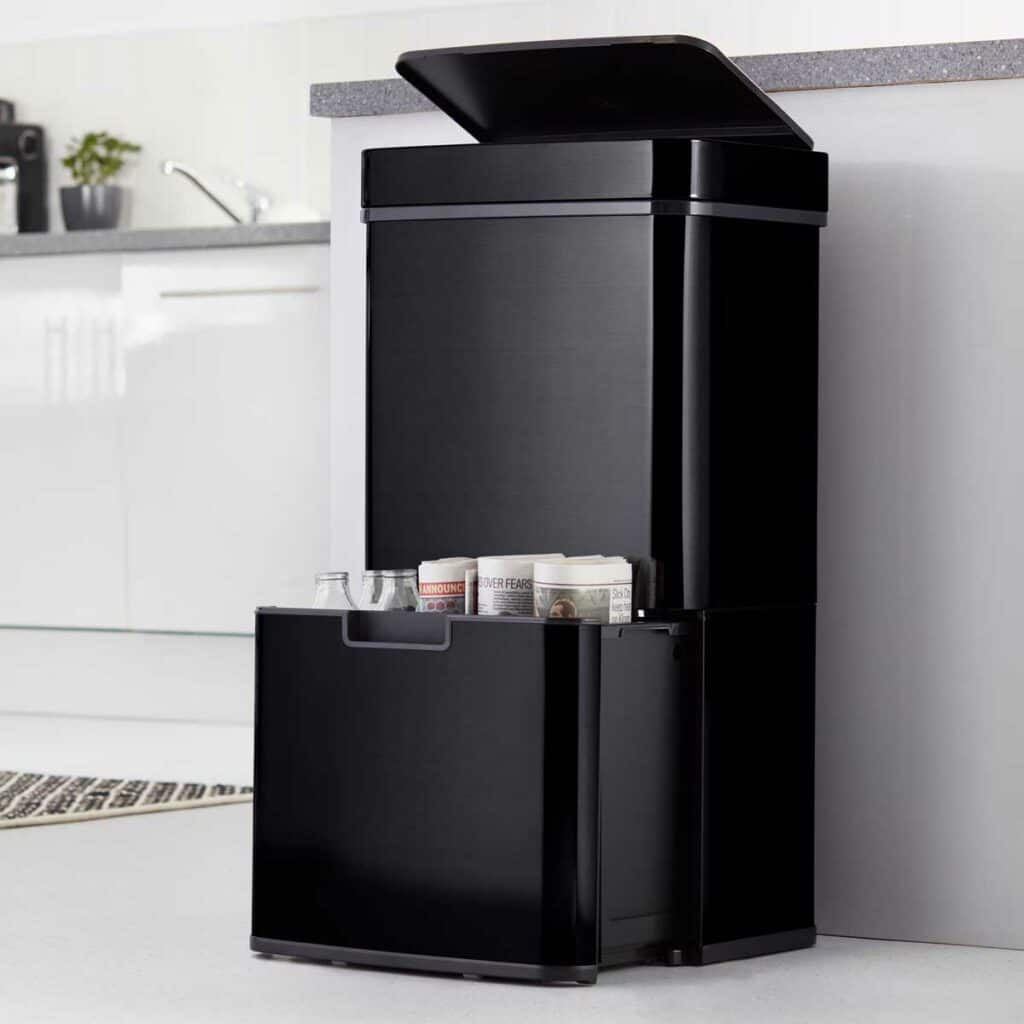 12 Piece Glass Food Storage with Lids
Ideal for storing Christmas dinner leftovers, or as a place to keep food you've prepared for the big day, the Cooks Professional 12 Piece Set is the food storage solution that will help keep you organised in the kitchen this festive season. Suitable for oven use, they are also freezer-proof, microwave safe and can even be run through the dishwasher, making your life even easier!
Lead image: monkeybusinessimages via Getty images.